A pure and fresh squeezed olive juice, associated with the people of the Mediterranean and the Mediterranean diet for centuries that has been recognized as a Cultural Heritage of humanity. A true gift of nature with unrivaled health-promoting properties and exceptional gastronomic qualities.
A temptation made of exciting flavors waiting to be discovered every day at your table where you can play with the different types of olives from various origins.
HEALTH BENEFITS AND NUTRITION FACTS
Due to the presence of monounsaturated fatty acids, especially oleic acid, it reduces total and low-density lipoprotein (LDL or "bad") cholesterol levels in the bloodstream, while maintaining unchanged

 

high-density lipoprotein (HDL or "good") cholesterol levels
High quality extra virgin olive oil, in particular, provides a high content of antioxidants, like polyphenols. Antioxidants are key to strengthening the immune system and protecting the body from the damaging effects of free-radical molecules. Among the most important poyphenols there are the hydroxytyrosol and oleocanthal (gives a peppery taste) and oleuropein (gives a bitter taste)
The presence of vitamins E, K and D and provitamin A protects the organs and tissues of the body
Decreases the risk of various types of cancer, like breast cancer, intestinal cancer and colon cancer
Helps maintain hypertension under control
In countries where olive oil is widely used there is a smaller rate of obesity
Helps the digestive functions and the absorption of beneficial substances
The composition of the fats, especially the Omega 6 and Omega 3 ratio is very similar to the one of breast milk, which makes olive oil essential in the children's diet from the early beginning
It helps absorb the calcium better reducing the risk of osteoporosis
Many studies show that olive oil protects the brain lowering the risk of Alzheimer disease
Very important in skin care, helps cure psoriasis, acne and eczema
OLIVE OIL, A PERFECT SEASONING: LEARN HOW TO USE IT PROPERLY
Whether used raw or cooked, olive oil complements every recipe and enriches the taste.
OLIVE OIL WITH RAW RECIPES
Enhance the taste of your recipes with a drizzle of olive oil and let it do its best work. Combine delicate oils with delicate food and intense oils with full-bodies recipes. The best mixture is yours to discover so feel free to play with the different intensities.
COOKING WITH OLIVE OIL 
Olive oil can take the heat without sacrificing the nutrition. It can also be used for deep frying: the smoke point (the temperature at which cancer – causing compounds are created) is 220 degrees while other oils go between 160 and 190 degrees. Good olive oil makes your food crunchy and light and still preserves your health.
A DIFFERENT TASTE FOR EVERY OCCASION
MILD – these types of oils have a delicate reminiscence of fresh fruit and vegetables with a smooth taste and a slightly bitter peppery finish.
MEDIUM – medium intensity oils with a well balanced bitter and spicy taste and a medium reminiscence of fresh fruit and vegetables
ROBUST –  a robust olive oil offers bold flavor, a balanced bitterness, with a very prominent peppery finish and a strong reminiscence of fresh fruit and vegetables.
TO EACH DISH ITS OWN EXTRA VIRGIN OLIVE OIL
MILD
MEDIUM
ROBUST
FISH
Seafood appetizers
x
Fish Carpaccio
x
Boiled crustacean
x
Grilled Fish
x
Steamed fish
x
Fish sauces and fish risotto
x
Tuna fish or Swordfish
x
MEAT
White meat
x
Red meat
x
Beef Carpaccio
x
Game
x
White meat sauces and risotto
x
Red meat sauces and risotto
x
SOUPS
Bean soups
x
Vegetable soups
x
VEGETABLES
Bitter vegetables (radicchio / rocket)
x
Delicate vegetables
x
Spiced or grilled vegetables
x
ALSO
Bruschetta
x
Cakes

(instead of butter)

x
Fresh cheese
x
Mayonnaise
x
Tomato based sauces
x
Tomato sauce
x
Eggs
x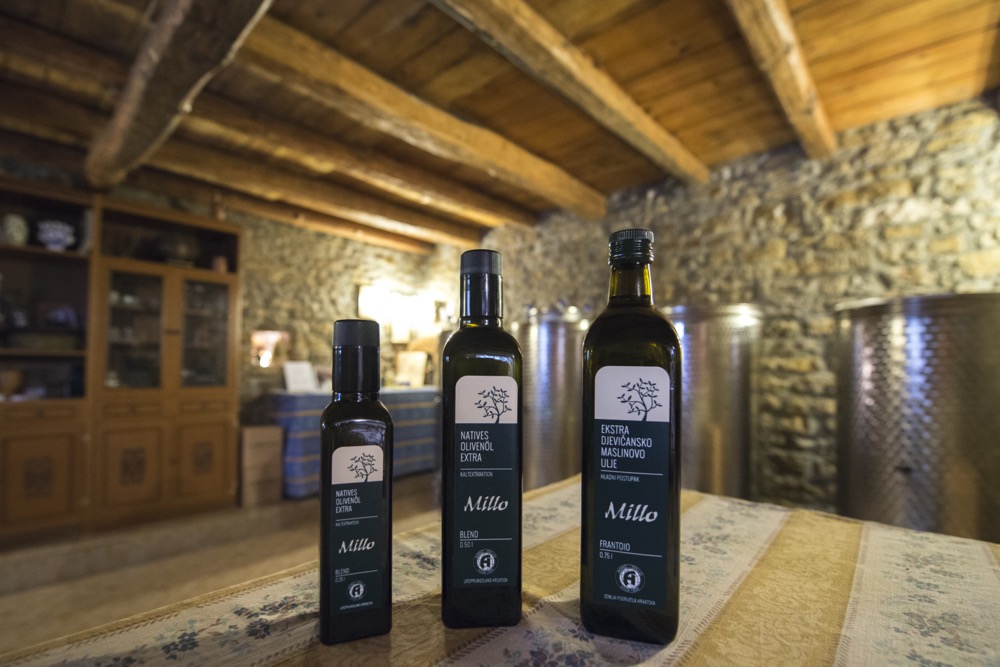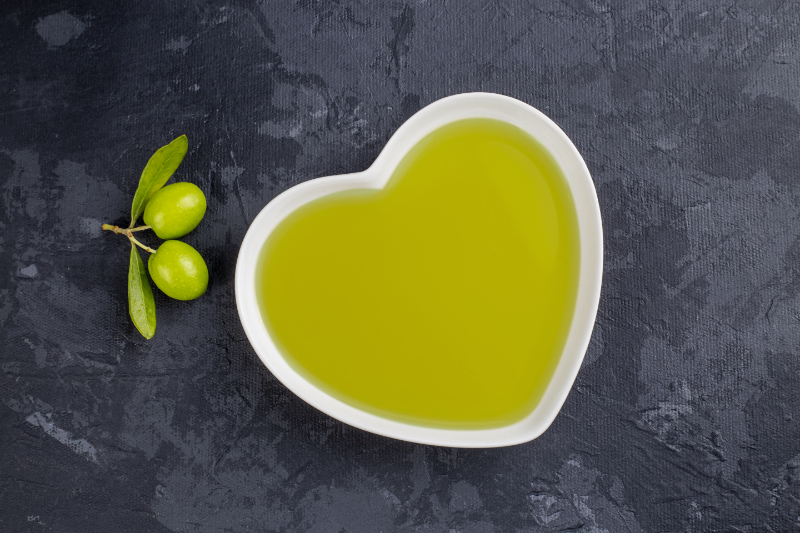 USEFUL SUGGESTIONS
The only oil that is obtained by directly pressing the fruit making it unique in its character and identity. There are approximately 1600 types of olives in the world each one with its own scent and flavor with a certain reminiscence of fresh fruit and vegetables.
Bitter and peppery = health. These flavors are due to the presence of natural antioxidants in the extra virgin olive oil.
The color of an extra virgin olive oil does not necessarily mean good quality: a great oil can be yellow or green, the only difference is the presence of chlorophyll
You cannot taste the acidity: it can only be determined in chemical measurements. The peppery flavor is due to the presence of antioxidants and are therefore a positive factor that helps our body remain healthy.
Choose the right size of your bottle: avoid oxidation and quality loss. Once opened, a bottle should be used within one month.
STORING OLIVE OIL
Extra virgin olive oil is very photosensitive: choose darker bottles to avoid photo oxidation.
The storage area should have a temperature between 14 and 18 degrees: while cooking do not keep the bottles near the burner.
The oil is very sensitive to oxygen: it is a good routine to close the bottle after every use in order to maintain the quality.
Do not keep good oil for a special occasion: appreciate it while it's fresh and at its peak of flavor and intensity. If possible always verify the harvest year.